Sign up for your chance to participate in the PlanetSide 2 PlayStation 4 Closed Beta!
By providing your email address you are opting in to receiving commercial email messages from Daybreak Game Company. Click here for our Terms of Service and Privacy Policy.
Once you've been invited to the Closed Beta, leave feedback and find out more info in the Closed Beta Forums. Your forum invite code will be included in the Closed Beta invite email.
PlanetSide 2 is the only MMOFPS where thousands of players align with one of three unique Empires and combat in an all-out, massive planetary war. In PlanetSide 2, when the battles last for days, the fight for territory is more than a victory, it's survival. For more information, please visit the FAQ.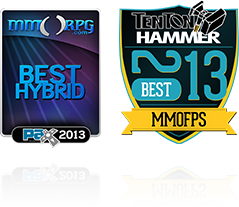 WINNER OF 19 GAME OF THE YEAR AWARDS
It will be worth the wait