By: Margaret "Luperza" Krohn
Cake, double experience and giveaways, oh my! It's PlanetSide 2's birthday and every Auraxian needs a gift, right? From Tuesday, November 19th at 4:00 PM PST until Sunday, November 24th, 2013 at 11:59 PM PST, every Auraxian will have double experience and be able to purchase a One-Year Anniversary Bundle!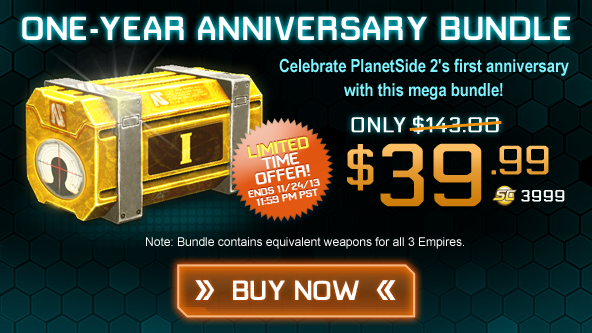 This bundle includes an Heroic Boost that grants 50% experience for six months, Headshot vehicle and armor decal, One-Year Anniversary armor, weapon and vehicle camo and an Anniversary Editiion Phoenix, Striker and Lancer! ...But that's not all! We're also adding the RAMS .50M, EM4 Longshot, Parallax VX3, Serpent VE92, LC3 Jaguar, Razor GD-23, Corvus VA55, TAR and Carnage BR. Valued at $143 USD, players can purchase this fantastic bundle for $39.99.
We'll also be giving away a PlayStation 4, 3 NVIDIA Titans and a ton of PlanetSide 2 goodies throughout our livestream from 10:00 AM to 6:00 PM PST on Wednesday, November 20th, 2013 on our Twitch.TV channel.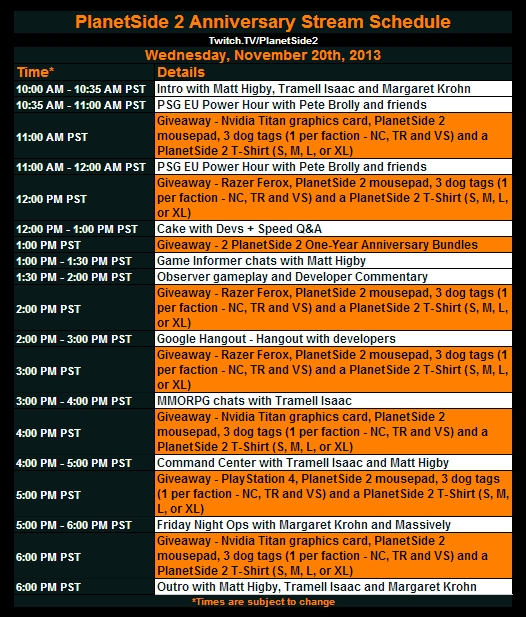 We'd also like to announce that on Wednesday, November 20th, 2013, PlanetSide 2 Trading Cards will be available on Steam, so collect them all! Here's a sneak peek at a few cards that you may find:

We hope that you all enjoy the festivities and giveaways! Thank you to all of the PlanetSide 2 players for giving us a wonderful year!