Salutations, Auraxians!
Weekends are all about gaining as much experience as possible right? Okay, maybe that's just my goal, but...If you're looking for an extra boost, this weekend - June 28th through June 30th - Heroic Boosts will be available in the marketplace depot!! This lovely boost will grant you 50% more experience; you can purchase a 3 month or a 6 month version.


I'd just like to note that having one of these bad boys whenever there's a double XP weekend is A-MAZ-ING! Those kinds of things happen during holidays...*cough* Like maybe the one that is coming up in a week or so. *cough* ;)
Must...Get...More...Certs!
While you're kicking butt and taking names, be sure to tune into our MLG Anaheim livestreams! We'll be showcased at http://www.majorleaguegaming.com/ and we'll have streams going on throughout the weekend at http://www.twitch.tv/planetside2.
Here's our stream schedule:
*Note: The below schedule is subject to change, so check back for updates.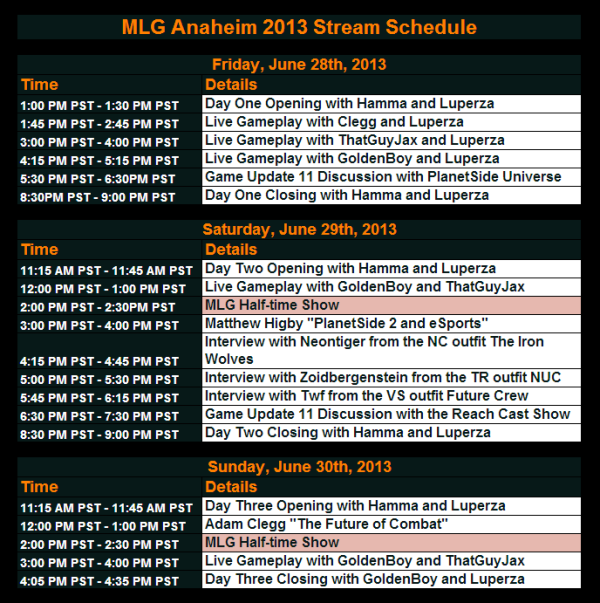 If you're in the area, stop by the Anaheim Convention Center and say, "Hi" to the developers, PlanetSide Universe staff and community team! We'll be giving away prizes on-site and on-stream (during breaks in-between segments). Don't miss out!
Enjoy your weekend, soldiers!
Good hunting,
/Luperza