PlanetSide 2 is great. Really, it's the pinnacle of online murdering and an entertaining one at that. And I'm not saying that for the extra potato they might feed me! You should all agree it's jam-packed with content and depth that can make your head spin. The problem with this complexity and depth is the rather steep learning curve. A new player can feel disoriented and overwhelmed when they are first thrown into the fields of war. This is why a friendly guide is always recommended, and can make the difference between a fair-battle friend or a core member of your empire.
In case you're wondering why everyone is silently looking at you, it's because Uncle Smed wants you to be your empire's next guide. What an honor! This is a respectable role and you're totally not a glorified babysitter. And don't give us that whole "I don't know how to take care of a newbie" mumbo-jumbo. Your mother always said you'd make for a great parent/drill sergeant. Still nervous? Don't sweat it -- we've got you covered with a solid list of activities to guide your green comprade to military adulthood.
So let's start at the beginning, with...
Level 1: The Absolute Newbie
"Holy cow, one moment this guy is talking about making my empire proud and the next I am dropping from space and now I am surrounded by hundreds people with goggles and is that a floating tank?!"
These are the thoughts going through your friend's head as he or she first land on Auraxis. The sheer scale of combat and the number of targets can become overhwelming. What your friend needs most during this time is perspective. Newbies need to learn how to recognize enemies and friendlies, locate objectives, and understand the rock-paper-scissors element that is so prominent in our universe. What they need is to take a step back, and absorb everything from the comfort of a hill.
Might as well do that with a sniper rifle.
There are a few reasons to start your newbie with sniping. First, it's a playstyle that's pretty consistent throughout FPS games. Chances are pretty good your friend has had a chance to snipe before, and sniping in PlanetSide 2 isn't going to be a world of difference. Secondly, it gives you a chance to calmly explain the world from a relatively safe location -- assuming you as the guide have a small amount of experience positioning as an infiltrator. You can literally talk and explain while traversing the lands for a nest, or even while searching for targets with your scope. You can answer questions peacefully without also evading bullets. Another advantage in pair sniping is how effective it is. You do not need to be an expert to have a good chance of scoring a few kills (or at least assists). Finally, sniping with a friend makes you feel like an utter badass. Let me elaborate on that one.
Duo-sniping is one of those activities that forces you to roleplay. Not "level nineteen Druid" kind of roleplay, which involves no bad-assery and only a small amount of awesome. It makes you roleplay a professional murderer, or in other words, a huge flippin' badass. The kind of badass that gives you a bunch of military jargon that actually has purpose. Why is this jargon helpful? Because when you snipe with a friend, suddenly your goal is not headshots; you have the firepower to eliminate the enemy without having to aim at a tiny head. Suddenly, your goal is communication.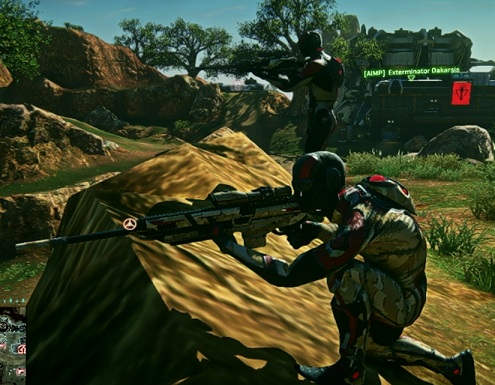 Pictured: Best friends bonding over a dead Engineer.
You will be telling him where you're looking and what you're targeting. You will describe scenery, direction, names, classes, vehicles, structures, and everything in between. You will effectively teach him about the game without him even realizing it.
Before you know it, your friend will sound like a grizzled veteran. He will not "roleplay" a veteran to immerse myself in some magical universe, nor will he roleplay because of his insomnia-induced hallucinations. He will sound like an experienced player because that's how two players sniper together, and it just so happens to also make you feel amazing. Sniping produces the sort of fun you'll rarely be able to reproduce in other games, and it's the kind of fun that shows your friend exactly why PlanetSide is worth sticking by, even if it's a bit tough to get the hang of.
Level 2: The Eager Beginner
Your friend is a fast learner. Only three hours old and already choosing where to respawn without triple-checking you'll be there to greet him. He fiddled with the art of infantry and played around with at least four different classes. He died to snipers, pilots, tanks, and even his own grenade. It's time to introduce him to the next element of PlanetSide 2: vehicles.
Driving takes a certain amount of knowledge. You need to know your strengths and weaknesses if you want to have any level of success. I do not recommend having your inexperienced friend follow you around in his own vehicle, unless you know for a fact vehicular risks will be minimal (if that's even possible.) I suggest you start him off by having him gun in your vehicle – preferrably a main battle tank. This way your friend is in a super sweet war machine that's iconic to the PlanetSide 2 experience, while still putting him in a learning environment that's low-risk, high-reward.
Indeed, tanks are super sweet and also awesome. But moreso, they are a great way to show your friend what to do and what not to do when driving a vehicle. Being a secondary gunner is as close to first-hand experience as your friend is going to have without having him grudgingly struggle on his own. And between you and me, it's pretty nice to have your own personal secondary gunner that's eager to impress you.
As a sidenote, consider being generous and upgrading your secondary gun. If all goes as planned, your friend will spend quite a bit of time in your gunner seat, so you might as well make it more effective. When choosing a secondary weapon, pick something that's easy to use. A small arch and high velocity will make it easier for your gunner to score hits, and hitting your target is super rewarding when using a weapon that hits hard. I'm a big fan of the E540 Halberd rocket launcher myself.
Beyond
By this point your friend should feel comfortable playing on his own. This is when you should introduce him to intermediate techniques that put both players on the same level of importance, without causing one player to rely on the other. Unfortunately, the internet can only handle so much of my written glory in a single week, so if you want to find out more you'll have to tune in next week when we reach Level 3: Double Trouble. See you there!