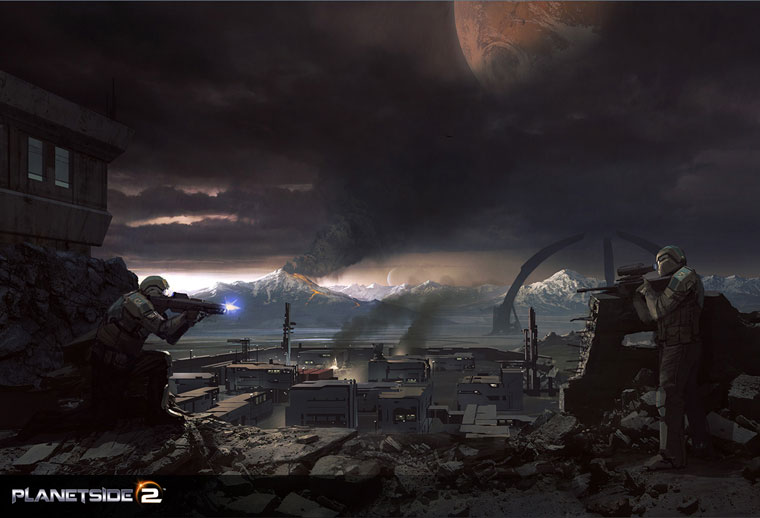 Greetings PlanetSiders-
We're really thrilled this week to be releasing the first in a series of backstory fiction for PlanetSide 2.
One of the many ways that PlanetSide 2 is more than just your average FPS is that in addition to making a kick-ass GAME we're building a kick-ass and believable WORLD. Our planet, Auraxis, is a enigmatic world with a deep sense of place and a rich and storied history. Part of bringing that world to life is creating the backstory for it, crafting the fiction that informs everything from why a continent is covered in charred ruins to why buildings look like they were dropped in from orbiting capital ships. Beyond grounding the design of the world, the story gives meaning to who the people fighting on it are, how they got there, their motivations and what their conflict signifies. Ultimately a cohesive and compelling story creates a cohesive and compelling game.
With PlanetSide 2 we're resetting the PlanetSide lore. Rather than a sequel, we call it a re-envisioning, or more accurately a re-imagining. We're doing this for a couple reasons, but the biggest is that we want to bring more depth and focus on to the story of what Auraxis is, how humanity discovered it, how they were stranded there, and ultimately how all hell broke loose and the epic unending battle for supremacy began. Those of you familiar with PlanetSide will recognize all the players, but the board they're on and how they move will be a lot different.
I'm incredibly proud to announce that working with us on this re-imagining is legendary comic book author Marv Wolfman. Marv has created such iconic characters as Marvel's Blade and DC's New Teen Titans among others, he is a true luminary in the world of comics and is a big-time gamer to boot. When we approached him with the idea of working on PlanetSide and what we wanted to do with it he was really excited. Over the last few months we've been working together to craft a series of stories, told from multiple perspectives that will help to put the entire history of the PlanetSide universe into one exciting and compelling interwoven narrative.
Starting this week and over the coming months we'll be revealing this backstory episodically as we ramp up to beta and launch. We're all looking forward to hearing your thoughts and feedback on where we're taking the story, and of course the game. So, as always, hit us up on the forums, facebook or twitter – we can't wait to hear from you.
Until next time!
-
Matthew Higby (@mhigby)
Creative Director – Planetside 2 (@Planetside2)