.................. COMM-LINK 001 ESTABLISHED....................
Greetings:
My name is Matthew Higby and I have the privilege of working as the Creative Director on PlanetSide 2™. My role on this team is to steer the game design vision and manage the design team responsible for the overall gameplay experience that players will encounter once they step foot in the game. So you know where I'm coming from, prior to PlanetSide 2 I worked on a number of SOE titles, including the original Star Wars Galaxies, EverQuest® II, Free Realms® and most recently, Star Wars: Clone Wars Adventures™. From the early days of development, original PlanetSide was a title that I respected, admired and had a hell-of-a-lot of fun playing. As an avid FPS gamer and fan of competitive online gaming and e-sports, being able to take part in the creation of the follow up to such an epic franchise is an absolute dream come true for me.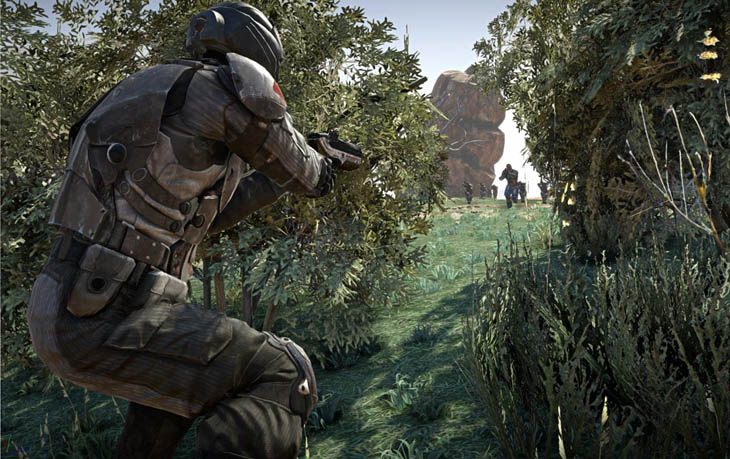 Of course, it takes an extremely talented team of artists, coders, designers, audio engineers, and production staff to build the enormous, incredible, unbelievably badass game experience that is PlanetSide 2. I'm really proud to be working with an extremely passionate and hard working team whose drive and determination inspires and amazes me daily. The PlanetSide 2 team members are some of the most talented and proven developers in the industry bringing together hundreds of years of collective experience from all over the gaming map especially the MMO and FPS genres-- and we are still growing. Together we are building the future of online gaming with PlanetSide 2.
It has been a little over two months since we officially unveiled PlanetSide 2 to the world and to say it has been a busy couple months is a huge understatement. We are really stoked at the reaction we have received from the PlanetSide community and are amped to relay our goals and aspirations for the game and inevitably create a direct back-and-forth communication with our players. This COMM-LINK will be a resource to the PlanetSide community; a place where we plan to deliver news, assets and information to keep you involved in the PlanetSide 2 development process. This is a place where we will share insight directly from the team on the game in our course to launching PlanetSide 2.
So, a bit about the team- our ridiculously talented art team is led by Senior Art Director, Tramell "T-Ray" Isaac. With an impressive resume that spans more than 15 years and includes games like Fallout, Fallout 2, Never Winter Nights 2, and the original PlanetSide, Tramell is a force to be reckoned with, often ending arguments with nothing more that his steely gaze.
With a project as technically ambitious as PlanetSide 2, we could not get anywhere without a brilliant group of engineers, technical architects and coders. We have some of the finest in the industry including our Technical Director, Ryan "Forge" Elam, who is not only one of the smartest and most dedicated teammates but he is also one of the nicest dudes around.
Heading up the whole crew is our Executive Producer, Joshua Hackney, who somehow manages to keep us all in line and at the same time keeps the energy drinks flowing, the paychecks signed and the suits and bean counters off our backs so that we can concentrate on making the best possible game.
There are a ton of reasons that we are all excited to work on PlanetSide 2 and for those of you who have not heard what we are building, allow me to lay out a few of the fundamental features so you can see why:
Our goal with PlanetSide 2 is to create a game where you will fight against and alongside thousands of players, competing simultaneously and directly against one another in massive battles featuring intense infantry action as well as incredible air and ground vehicle combat. You will be able to traverse enormous open-world maps featuring massive gameplay space and unique biospheres, punctuated by massive facilities, towers and bunkers. Persistent conquest warfare is facilitated by territory control where you will earn resources to unlock weapon add-ons, vehicle customizations, and more. No instancing here, everything is 100% PVP and 100% open world combat. And of course, a deep character customization and personalization will allow players to create your very own soldier, customize your weapons and vehicles to fit not only your own personal play style but the needs of your outfit or the entire empire.
All of these features come together to deliver what we feel will be not only the world's best MMOFPS, but the ultimate online FPS experience. The feedback and excitement we have received from the PlanetSide community thus far has been amazing and we are just getting warmed up! Over the next few weeks and months be sure to check back here periodically as we release additional COMM-LINK articles featuring myself, Tramell, Josh, Ryan and the rest of the dev team. As I said earlier, here we will share some extensive details about the game systems, continents, vehicles, weapons, etc., through screenshots, gameplay videos, and more. PlanetSide 2 is about to go off and we are thrilled and honored to have you, our player community, along for the ride.
Until next time, please keep in touch- we would love to hear from you!
@PlanetSide2
-
Matthew Higby
Creative Director, PlanetSide 2
@mhigby
& The PlanetSide 2 Team