Hello Soldiers!
Our theme this week was "Meet the Team." We shared some more intel about PlanetSide 2 and the minds behind the game! Keep reading for a recap on where to find all the information on our site, Stickam, Twitter, and in the press.
PlanetSide 2 Comm-Link: Matt Higby
PlanetSide 2's first Comm-Link was released Tuesday, September 13, 2011. Matt Higby explained his role, introduced three more members of the team, and talked about some of the design goals the team has for the game. You can read it here: http://www.planetside2.com/news/sept13TeamIntro.html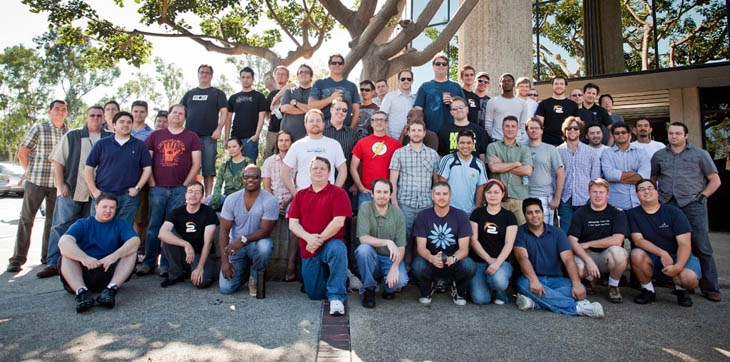 In the Press
This week in the press, PC Gamer included an excerpt from an interview with Creative Director Matt Higby in their current November issue, available now. The interview has Matt breaking down three of PlanetSide's main features: Mission Systems, Classes and Vehicles.
Rock Paper Shotgun also posted an interview with Matt Higby that details various aspects of the game and its mechanics, including support roles, customizable vehicles, factions, and weapons. You can check out that interview here: http://bit.ly/pdKeBL
Webcast


On Thursday, September 15, 2011, we had our first PlanetSide 2 webcast. We learned more about Creative Director Matt Higby, Executive Producer Joshua Hackney, and Senior Art Director Tramell Isaac. We also learned what makes them passionate about online gaming and PlanetSide 2, and how they found their way onto this incredible project. If you missed Thursday's webcast, you can watch it on our YouTube channel.
Twitter Chat
On Friday, September 16, 2011, the PlanetSide 2 Developer Team participated in a Twitter chat and answered questions from the fans. If you would like to participate in the next PlanetSide 2 Twitter chat, make sure to follow @PlanetSide2 on Twitter.
That's it for this week, Soldiers! Keep an eye on our Facebook and Twitter, and check back for more intel soon. You won't want to miss what we've got coming down the pipe.
Virrago out!