By: Margaret "Luperza" Krohn
After having done a 9/11 Heroes Run, plunging into a 5k race, the PlanetSide 2 Development Team has decided to step it up a notch and take things into the game for Veteran's Day.
From November 9th, 2013 at 12:00 AM PST through November 11th, 2013 at 11:59 PM PST, SOE will donate 10% of the purchase price for all PlanetSide 2 in-game marketplace item sales to the Travis Manion Foundation.* Everyone that purchases an in-game item in PlanetSide 2 during this time period will receive a free TMF Decal that will be granted to their account on Friday, November 15th, 2013.
Headquartered in Doylestown, Pennylvania, the Travis Manion Foundation is a qualified 501(c)(3) non-profit organization that was founded in 2007 by the Manion family after 1st Lt. Travis Manion, USMC, was killed in Fullujah, Iraq as he drew enemy fire away from his wounded comrades. The Travis Manion Foundation's mission is to assist and empower the nation's veterans and the families of fallen heroes.
Heroes and veterans, let's honor our fallen by challenging the living! Play PlanetSide 2 this weekend, donate by purchasing an in-game item, and educate your fellow Auraxians on how they can become a hero too!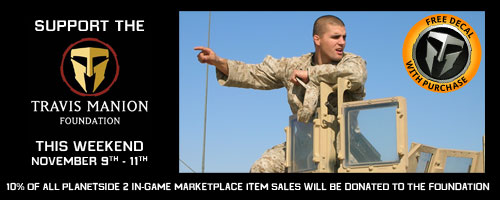 *Purchase price is based on the SC equivalent in U.S. dollars (for example, if you purchase an in-game item for 1,000 Station Cash SOE will donate $1.00 to the Foundation). Excludes membership purchases and Station Cash top ups.