It takes an extremely talented team of artists, coders, designers, audio engineers, and production staff to build the enormous, incredible, unbelievably badass game experience that is PlanetSide 2. This week some members of our dev team share a little about themselves and their experiences building the future of online gaming. Next up, Kenneth Coker.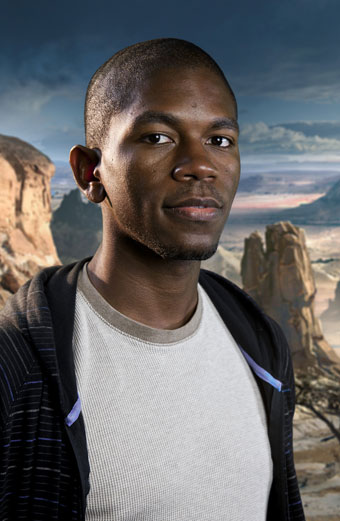 1) What is your name and what is your role on the PlanetSide 2 team?
Hello, my name is Kenneth Shofela Coker and I am a Character Artist for PlanetSide 2. I model armor sets, helmets, and full body suits for the soldiers in game using programs like Zbrush, XSI Softimage, Maya, etc.
2) How did you get into the video game industry? Give us a little background.
I originally graduated with a BFA in illustration from the Memphis College of Art in Tennessee. However, I had been learning CG tools in my spare time during college, knowing that I wanted to work in video games or animation. After a few months of freelancing I got hired at Robomodo LLC in Chicago as a character artist for the skateboarding game Tony Hawk: SHRED.
Growing up in Lagos, Nigeria I suppose I probably developed a unique love for videogames because it felt almost like an underground movement. Videogames were hard to get in Lagos during the 90s so playing them, whenever there was electricity, was extra special. Lagos had frequent power cuts back then. Lots of rage and corrupted file saves for Final Fantasy 7. I've always been drawn to immersive worlds, and successful videogames excel at that. The thought of being able to contribute and create worlds for people to play in is a strong daily incentive for working on videogames.
3) What games have you previously worked on?
Tony Hawk: SHRED
4) What are you currently working on for the game?

This week I am working on a set of first person arms for the Vanu Stealth class. The Vanu MAX suit is up next.
5) What most excites you about working on PlanetSide 2®?

I am excited by the chance to work on an immersive universe with so much history and unique fan fervor.
6) Terran Republic, New Conglomerate, or Vanu Sovereignty? Which is your favorite faction and why?

Terran Republic. I suppose I align more with the N.C.'s ideology, but the T.R. are more fun to play.
7) What else are you passionate about?
Family, Soccer/ Arsenal (Gooner for life), comics and animation.