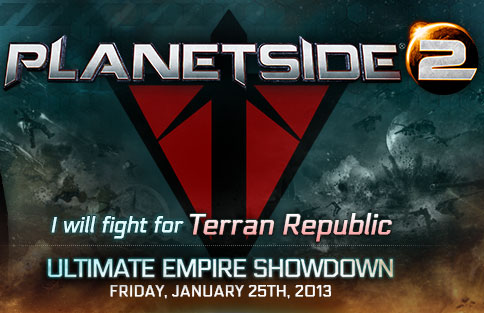 Does might make right? The Terran Republic believe so and the Ultimate Empire Showdown is not to be trifled with. Some of the toughest veterans from Black Widow Company, The Enclave, and other skilled will attempt to purge the Vanu Sovereignty and New Conglomerate from the competition.
Here is your Terran Republic Ultimate Empire Showdown Team!
Dyr13l
Firefly
Gunweasel
13lackRain
Bernie
skwashdem
Gunny McDuck
Pyroguy
Jomo
MikeyBDatBull
Medicdude
AsoYaToe
Mistwraith
Jaeve
Want to join us? Check out the details of this free event coming January 25th.
Show your allegiance and change your Facebook Cover to the Terran Republic!